Idiots Walijaza 23 Wildlife Safari Day 10 Ngorongoro Crater



The Idiots went for an early morning departure from Rhino Lodge so they could enter Ngorongoro Crater shortly after sunrise. It's an impressive place. Large enough to support several different habitats… plains and savannah and even a dense wooded area, along with lakes and rivers… it provides an intense wildlife experience.

Entering the crater…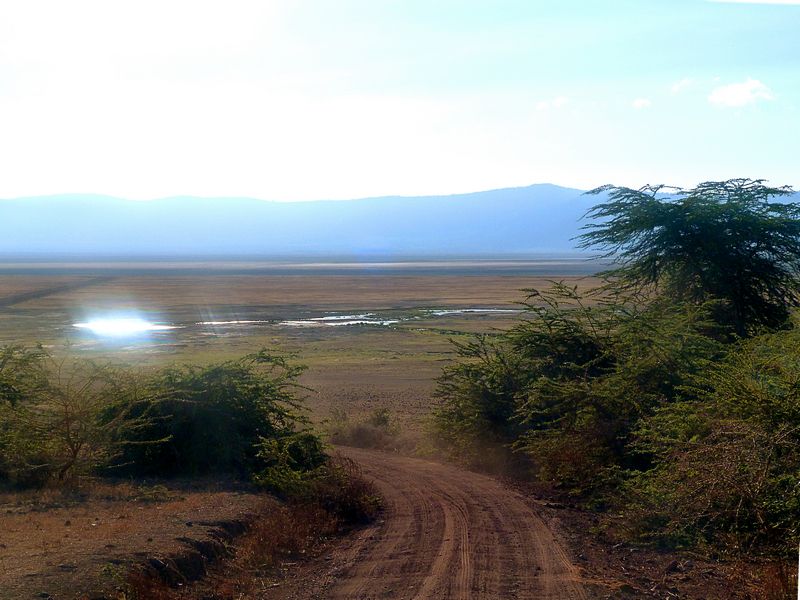 Candelabra trees (euphorbia candelabrum) dot the sides of the crater. They share the attributes of the euphorbias (spurges) grown as die-back perennials in Minnesota gardens – succulent nature, brittle branches, bitter/poisonous white sap – but they are huge, growing up to almost 50 feet in height.










A lush riverine area provides forage and water for a variety of wildlife including some large old elephants.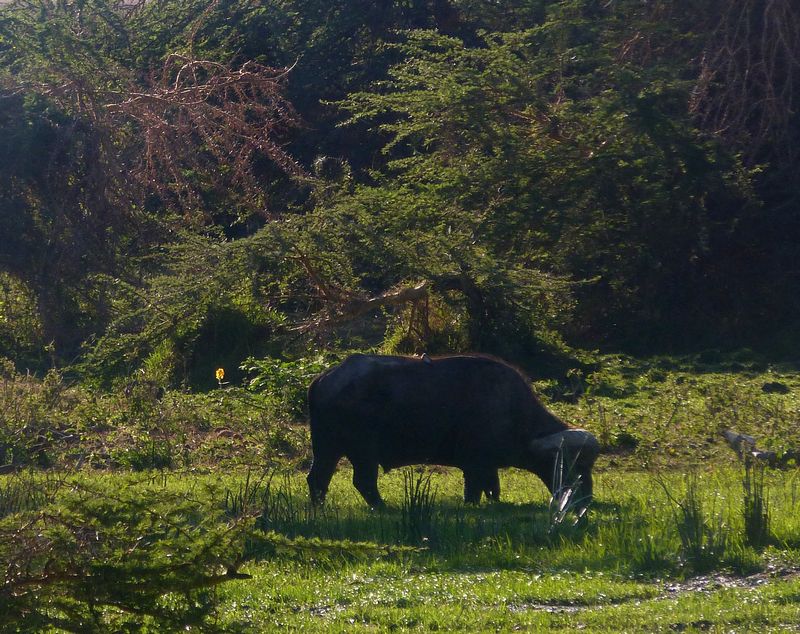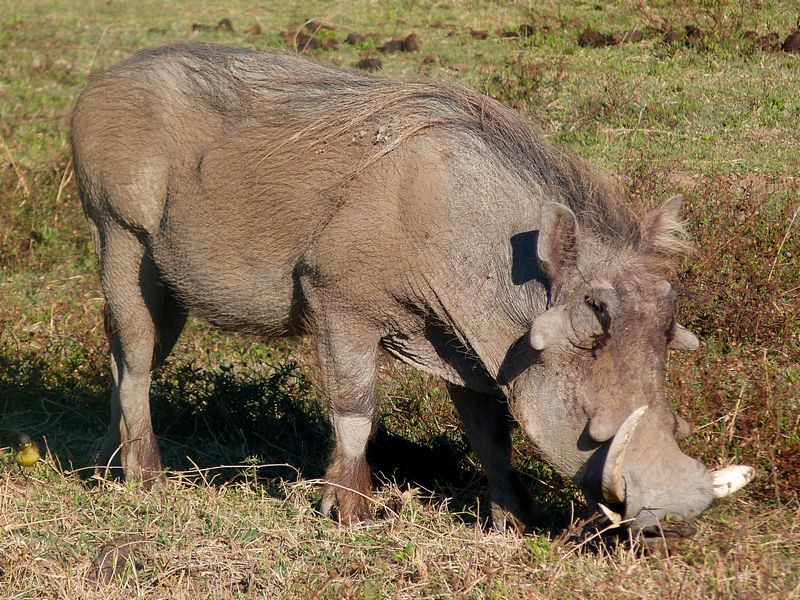 The Yellow Barked Acacia has wonderfully-textured bark – and also an undeserved bad reputation. Its nickname is "Fever Tree." These trees grow where there is moisture. Early settlers associated these trees with the "fever" they developed when staying near them. They were not aware that the same environment that favors this acacia also favors the mosquitoes that carry malaria.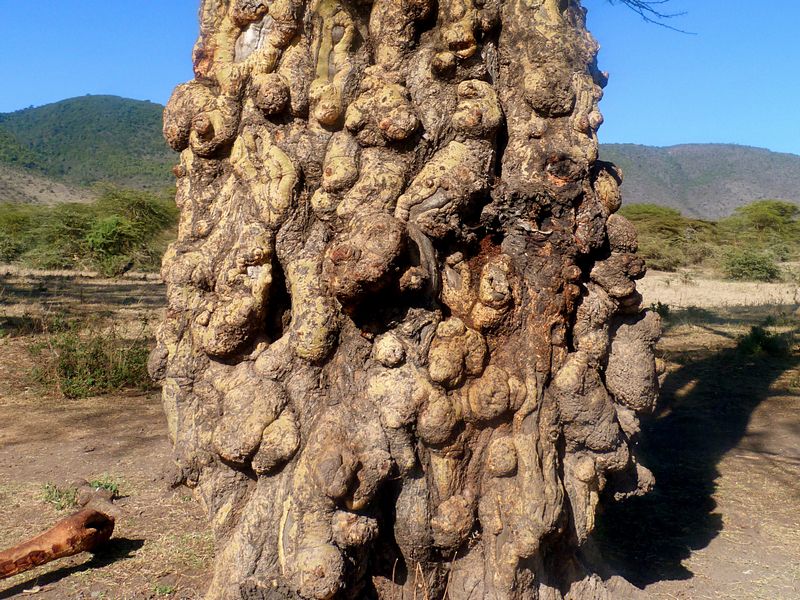 A portrait of their trusty transportation – the Idiotmobile!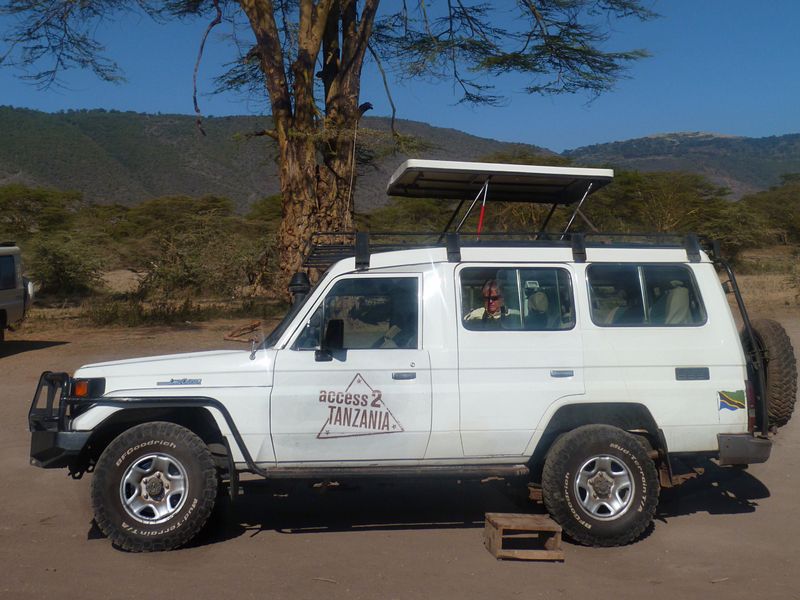 A happy, satisfied Access2Tanzania customer…










Wildlife is concentrated in the crater, so it behooves creatures to be attentive to their surroundings. An animal only becomes prey when it is too slow or too unaware to run away.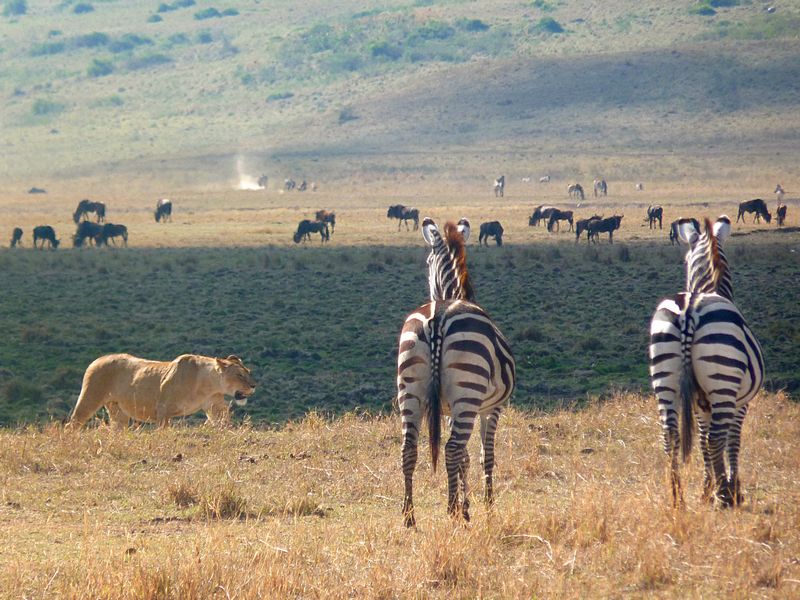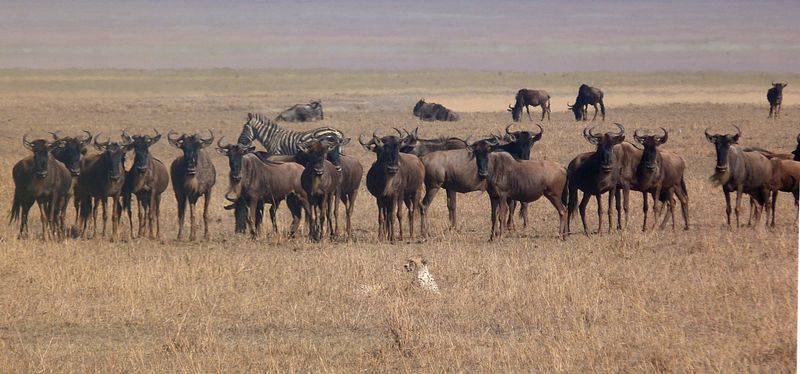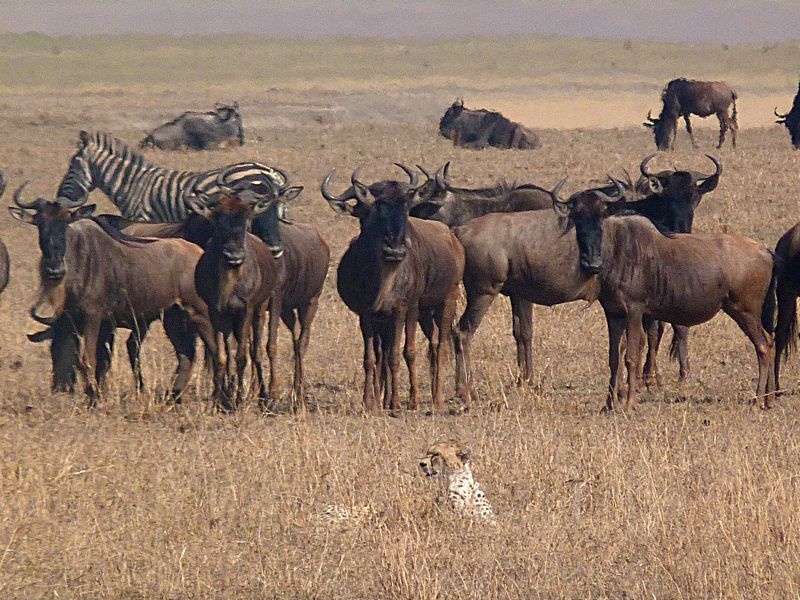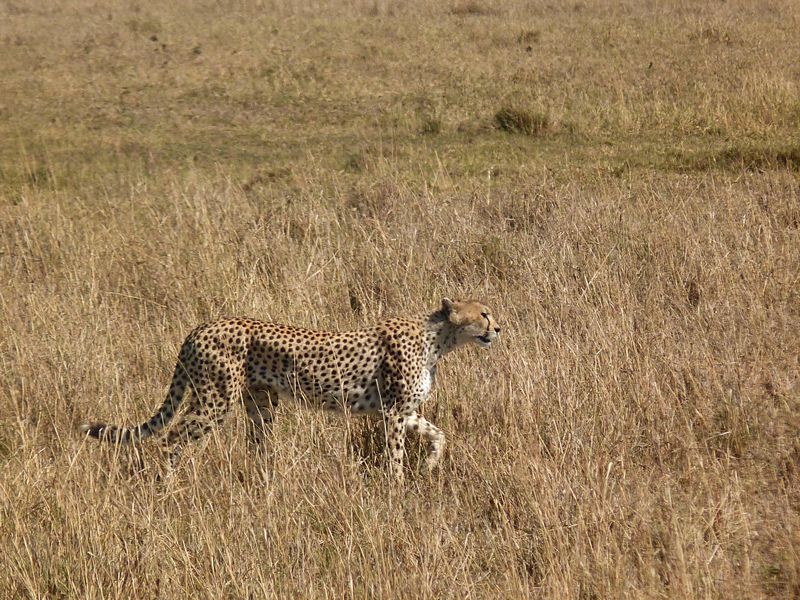 One of the few places a tourist can have a high expectation of seeing a black rhino in the wild. Every day brings them closer to extinction. It is estimated there were 65,000 black rhinos in Africa in 1970. Today the number may be as low as 1500.

Rhinos are poached for their horns. It is widely assumed, incorrectly, that the extermination of these magnificent animals can be placed on their use in traditional Asian medicine. Westerners love to make fun of the idea that Asian men are spending fortunes for rhino horn as an aphrodisiac even though Viagra is available for just a few dollars. Actually, as with most common knowledge, the reality is more complicated. Rhino horn has been used in traditional medicine for many purposes for at least 2500 years.

So why, after being prized for so many centuries, are the rhinos now being hunted to extinction? Reasons are multiple – but they all come down to money.

As the economies of Asia have developed, more Asians have more money… this leads to additional demand. And perhaps the most dramatic effects are related to oil money. Elaborately carved rhino horn dagger handles are much prized in some Arab countries – especially in Yemen. Poaching of rhino horns became immensely financially rewarding when Yemen became awash with oil money. The horns of just one black rhino have been known to sell for $50,000. It's no wonder desperately poor people would be willing to kill one big animal for enough money to support a hundred Tanzanian families for a year.

The Idiots feel privileged to have seen two rhinos, in the Serengeti and in Ngorongoro Crater. They wonder how long this will still be possible.









Readers with sensitive stomachs may want to skip the rest of this episode. There is considerable "Circle of Life" photo documentation. As they have observed before, life in nature is about eating, breeding, and dying. In the crater, animals are mostly eating or being eaten. The majority of the hunting is done at night or in the early morning, so the Idiots got to observe many creatures having breakfast and a few that were serving as breakfast for others. There was even some drama involved.


The Idiots came across a water buffalo carcass being guarded by a young male lion.









They observed him for some time before they realized his brother and hunting mate was lazing in the shade of a safari vehicle.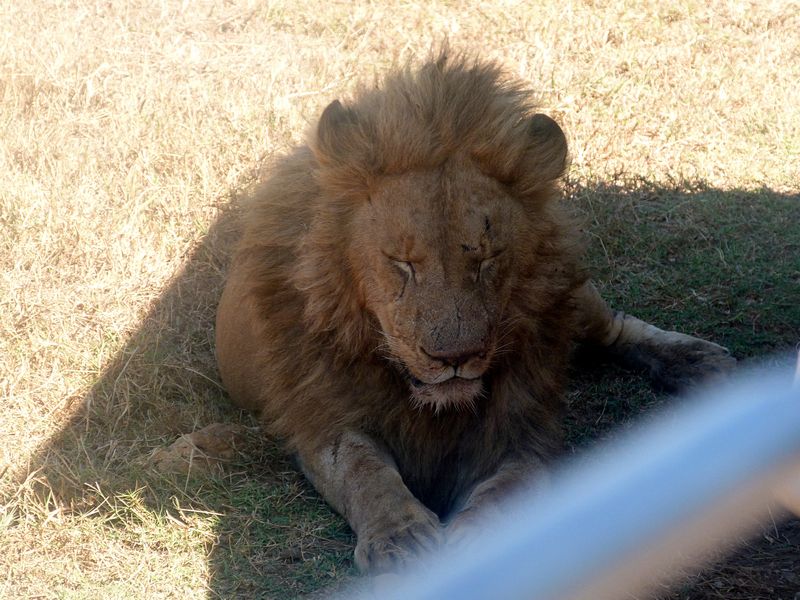 It was getting warm and they had both eaten their fill, so the first wanted to join his brother and rest in the shade.










Every time he started to walk away, an impatient pack of Spotted Jackals would dart in to help themselves at Old Ngorongoro Buffet… and then an ever-growing pack of hyenas would drive the jackals away and claim the carcass.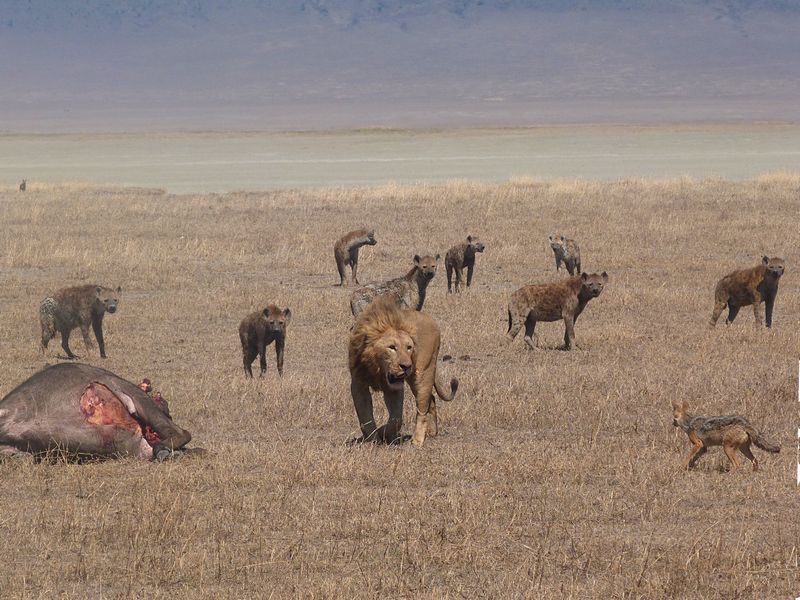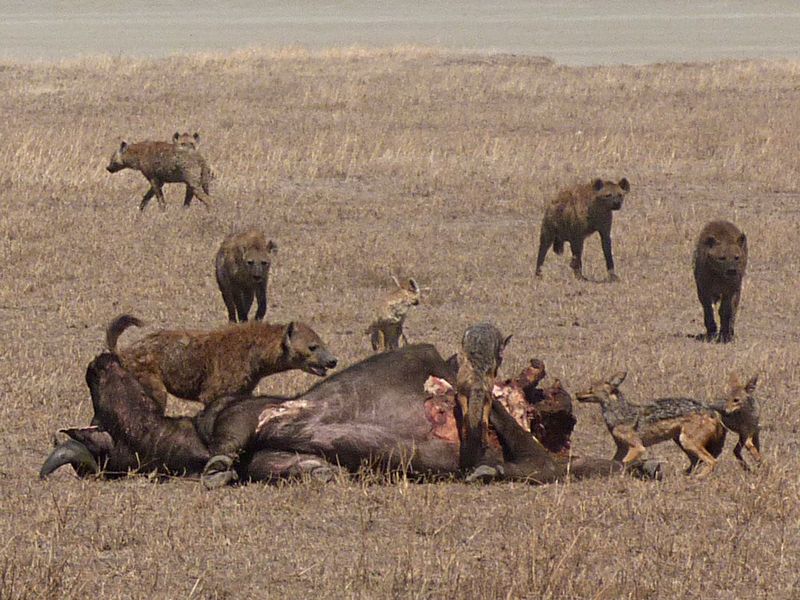 Nobody likes to give away a perfectly good kill, to the lion would turn around and chase the scavengers away. They all seemed to have an excellent sense of how far away was just far enough to run away. The lion would look back longingly at the shade and would eventually head back that way…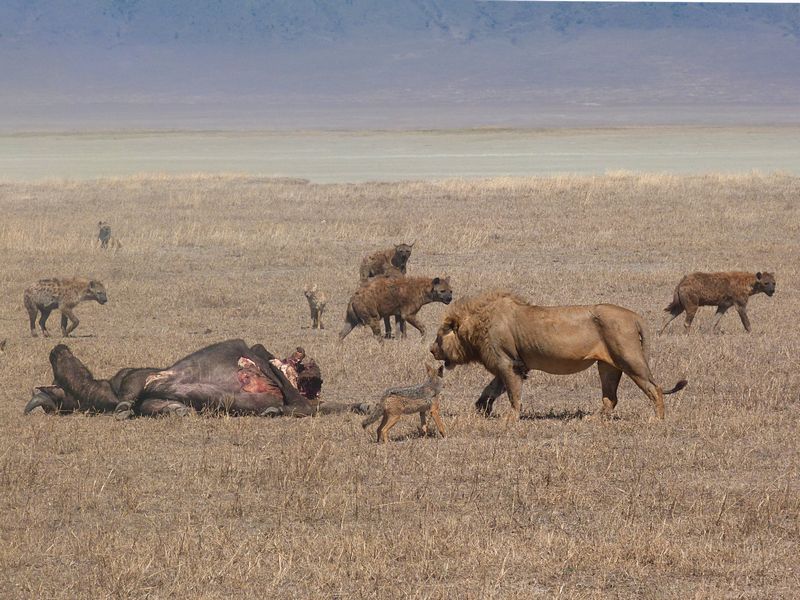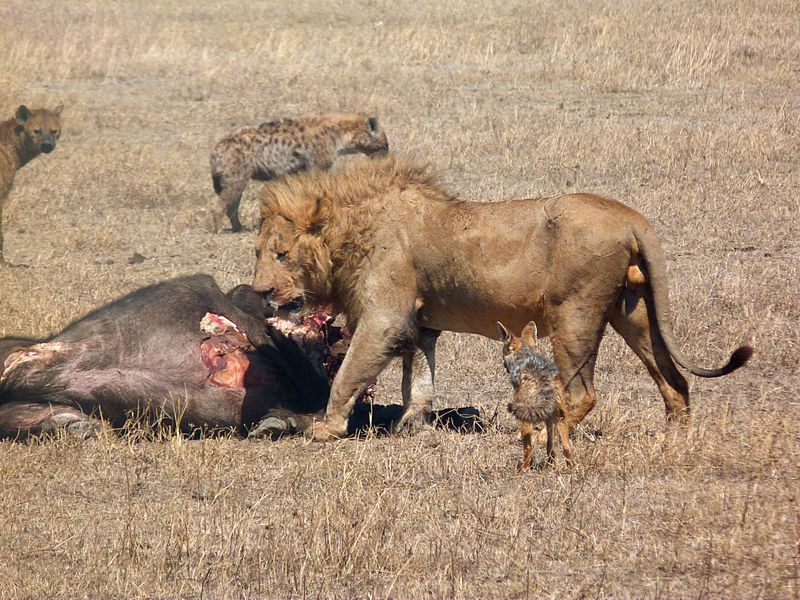 After about three such forays, he got tired and joined his brother. When the safari vehicle moved away, another moved into its place and the lions lazed while the carcass was dismantled by the hyenas.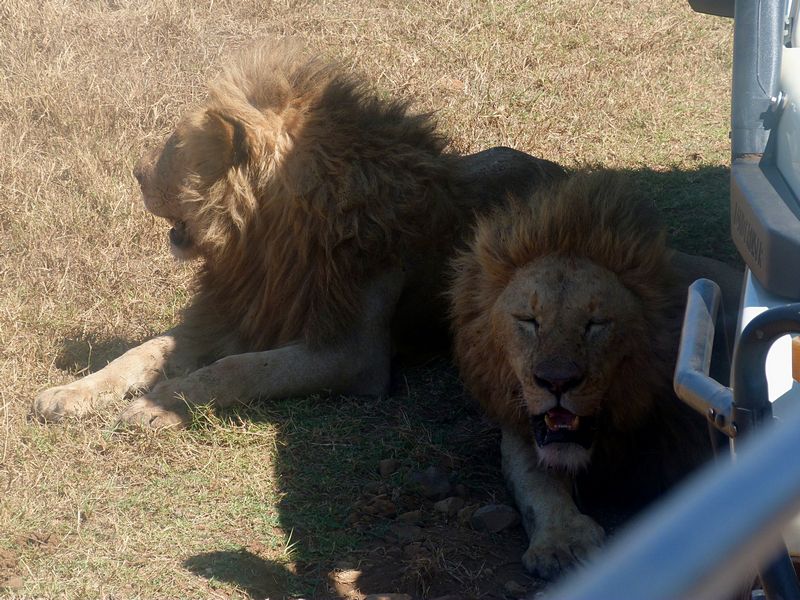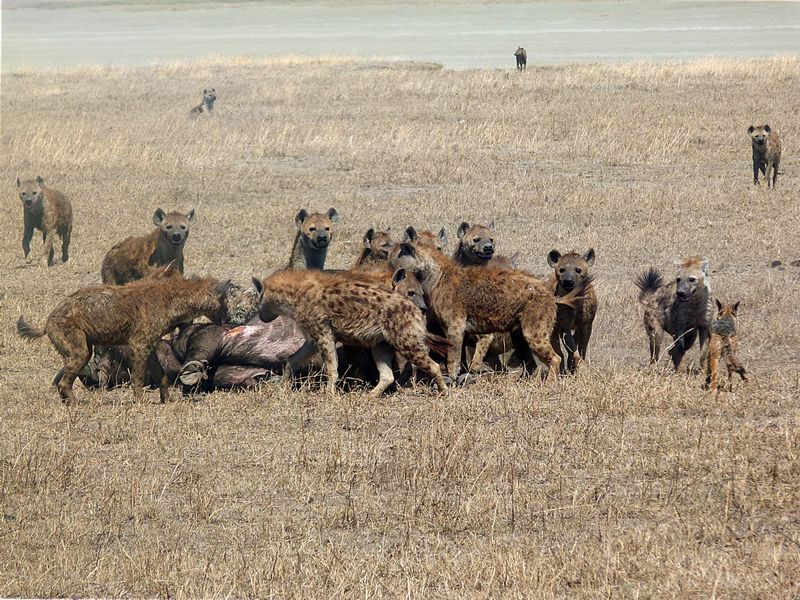 This trip description probably didn't need another picture of an ostrich, but it was inserted as a break to give sensitive readers the option of quitting here. The Idiots went directly from this lion kill to another.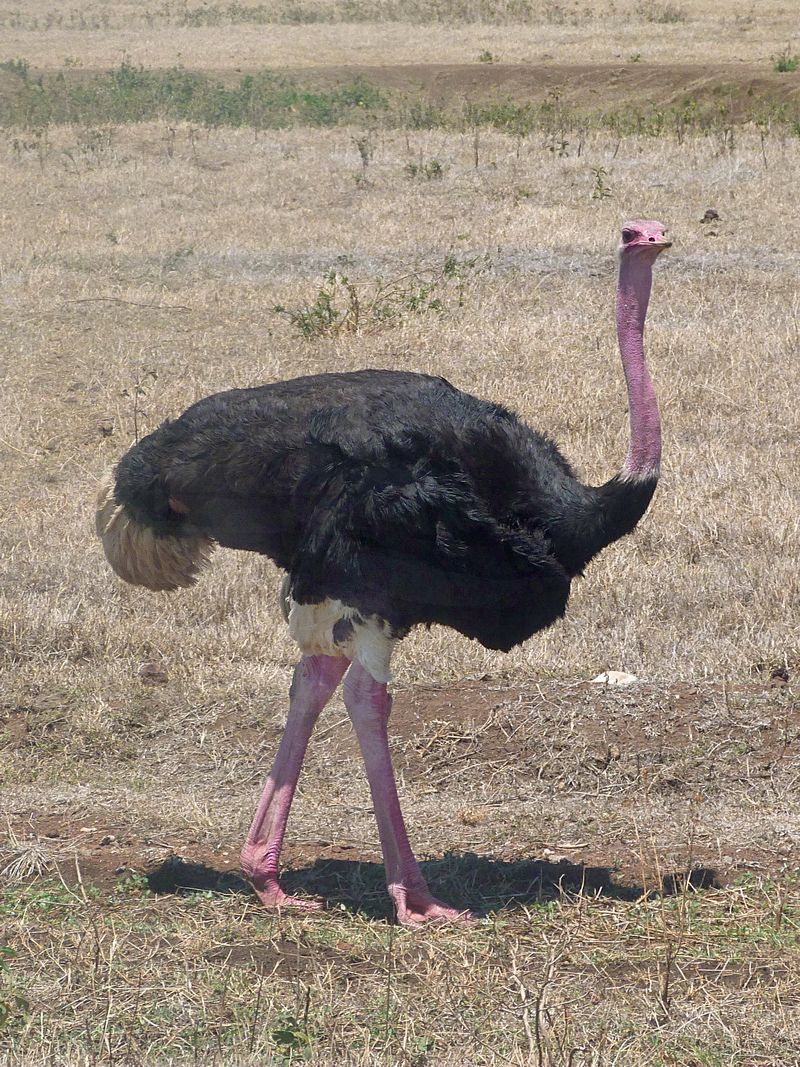 Before departing for Tanzania, Idiot She asked many friends what particular animal they would hope to see if they were on safari. One old friend (not saying she's old, just that she's been Idiot She's friend for almost 50 years, so they are old friends… but then again, if they've been friends for almost 50 years, that makes them… oh, never mind!) is a mother and grandmother and much of her life revolves around her family – so instead of one animal, it was quite in character that she named "a family of lions." After seeing the Idiots' lion family picture, she admitted she was envisioning something more Disneyesque…

A water buffalo kill right in the middle of the road drew many vehicles to watch nine lions in and around the kill. Yes – in!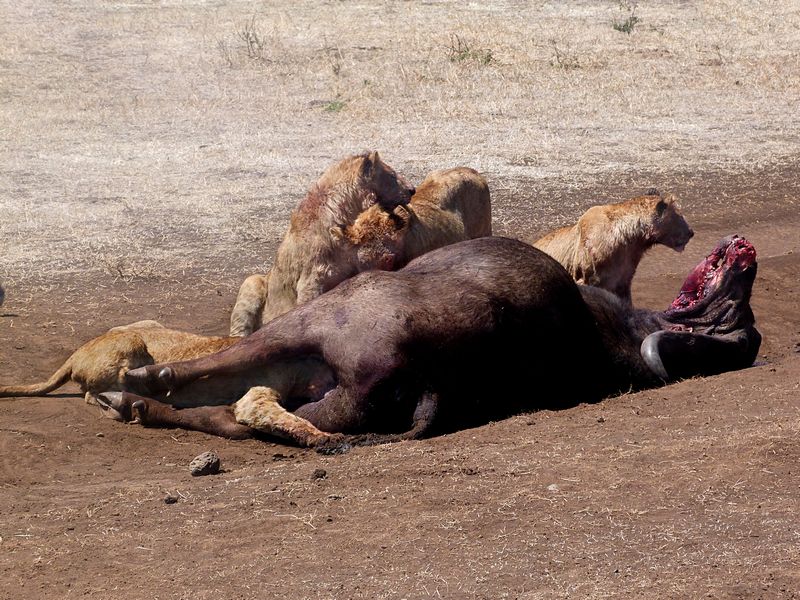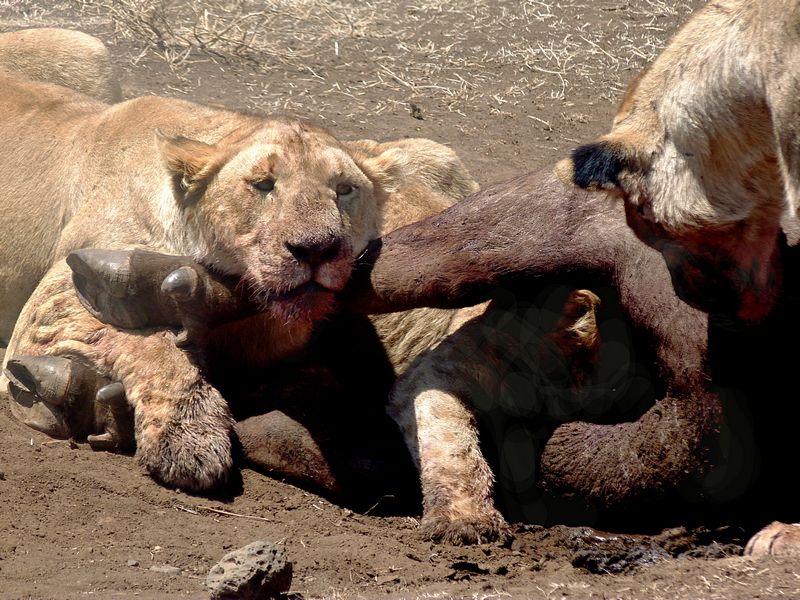 Mom and her three kids take a break after breakfast. From the looks of it, she must be a pretty good provider. They look mighty fat and sassy!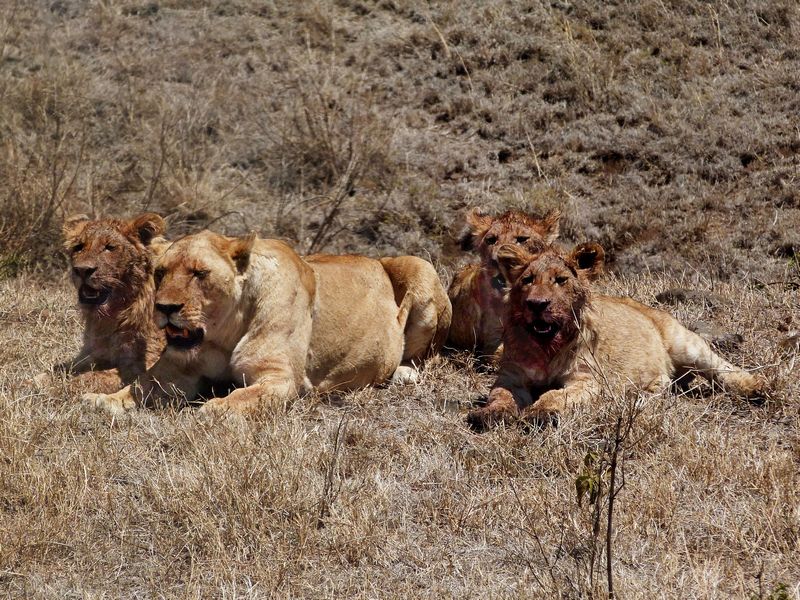 Finally – Idiot She got her wish… to see an elephant skull in the wild. This produced another interesting story from Mussa.

Idiot He grew up on tales of "The Elephants' Graveyard." The story was that old elephants would know when it was their time to die and would leave their group and go to a particular place to die. Tarzan had to defeat the greedy explorers seeking to find the graveyard and defile it by removing its vast store of ivory.

Mussa gave a good theory for how the story developed.

There are places where of elephant skeletons are concentrated. One theory is that when conditions are very difficult, animals gravitate to places where there is a permanent water source and forage when it has disappeared from dryer areas. Eventually, even with water, if times are bad enough, some will starve to death.

But a knowledge of elephant physiology provides and interesting variation on this basic theory. Mussa explained that elephants develop multiple sets of teeth in a lifetime. Much like with humans, a set of teeth is pushed out of the way to make room for another set. Unlike humans (and most mammals,) elephants don't just do this once. They have six sets of teeth in a lifetime. As the older teeth wear down, they break up and fall out, replaced by still larger teeth.

Though they never seem to visit dental hygienists and their feet are ill-suited to flossing, their teeth hold up well for many years of constant grinding of foliage, bark, and wood – up to 650 pounds of it a day! But after 60 or 70 years, their last set of teeth begins to fall out. This is where the graveyard theory kicks in.

It stands to reason that an old elephant having trouble chewing food would seek out a place where there is water and softer, more succulent food. Of course, after getting there, they are still going to starve to death if a predator doesn't take them first. So the theory is that elephants are following a logical biological imperative that tends to concentrate their skeletons in certain locations.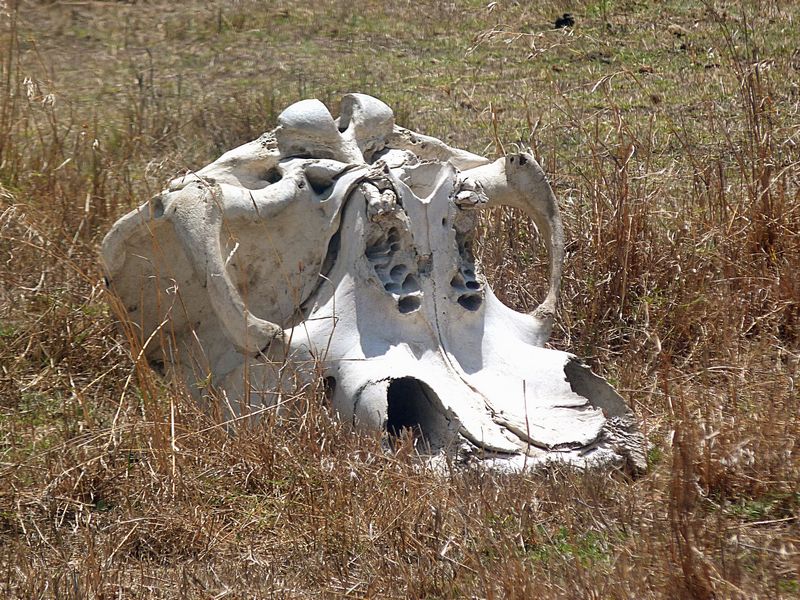 The Idiots could have cruised around the crater for another hour or so, but they looked at each other and told Mussa "We're done!" They might have seen another cat, or more elephants, perhaps another rhino… but they were "Walijaza" and ready to head on back to Arusha.

Departing the crater…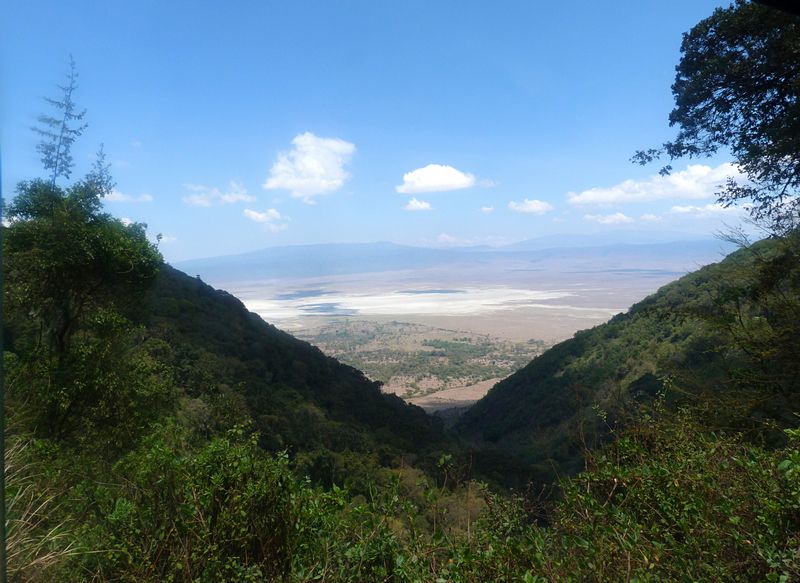 Back at Tumaini Cottage, the Idiots said their sad farewells to Mussa… and to a wildlife trip of a lifetime.