Idiots Bahati Ya Mjinga Episode 3 Sheldrick Elephant Orphanage

(Yes... a name change... all will be explained in the future!)

The Idiots spent a lot of time in Nairobi exploring the positive side of willful indolence. After the debacle of their second day, they spent most of day 3 in rest mode. They did make one excursion – a visit to the David Sheldrick Animal Orphanage in Karen.

Karen is a lovely area a short distance from unlovely urban Nairobi. It was named for Karen Blixen, a Dane who lived and operated a coffee plantation in the area in the early 20th century. She wrote under the pen name Isak Dinesen and her memoir, Out of Africa, was quite popular. It became an international phenomenon when Hollywood made it into a movie with Meryl Streep and Robert Redford. Much of the movie was filmed around Blixen's home in Karen, which is now a museum.

The Idiots' objective in Karen, however, was not a pilgrimage to a movie set. They went to see baby elephants.

David Sheldrick came to Kenya in 1948 and was a pioneer in the establishment of National Park areas to preserve wildlife. His wife, Daphne, worked by his side and since his death in 1976 has, with her daughter, continued this excellent work,

Elephants are remarkable creatures. They form family and social groups. They demonstrate emotions, including grief for lost group members. They respond to humans – and humans respond to them. This is both a good and a bad thing.

The decline in African elephant populations is depressing. It seemed a few years ago that the international agreements about ivory would curtail poaching. It did seem to be helping for a while. But the most recent studies are showing a catastrophic decline, almost entirely due to poaching.

There are plenty of villains, so it is a special thing to find some heroes.

Elephants are very long-lived and with this evolutionary characteristic has also come a very long gestation period in the womb and a long dependent period for baby elephants. They must have their mothers' milk for three years. When elephant babies are orphaned due to poaching or the accidental death of their mothers, they cannot nurse from another elephant and they die.

Daphne Sheldrick studied this for many years and eventually developed a formula that can replace the dead mother's milk and keep the baby alive. The Sheldrick animal orphanage is an amazing place. Located in Nairobi National Park, they take in orphaned elephants from around the region and raise them until they can be released to join herds in the larger Kenyan parks.

The public is welcome (donation required) to visit for the daily feeding at 11:00 AM. People who sponsor specific babies have a more personal opportunity – they can visit at 5:00 PM when the youngest babies return to their pens to be fed and put to bed.

Idiot She sponsors a two year old named Faraja. She gets periodic updates on his progress. He is part albino and is developing into quite a feisty youngster. The Idiots had an excellent visit with Faraja and the other babies. A few (!) photos were taken. Readers are asked to forgive the picture-heavy nature of this episode… it was just too darn hard to leave any more out!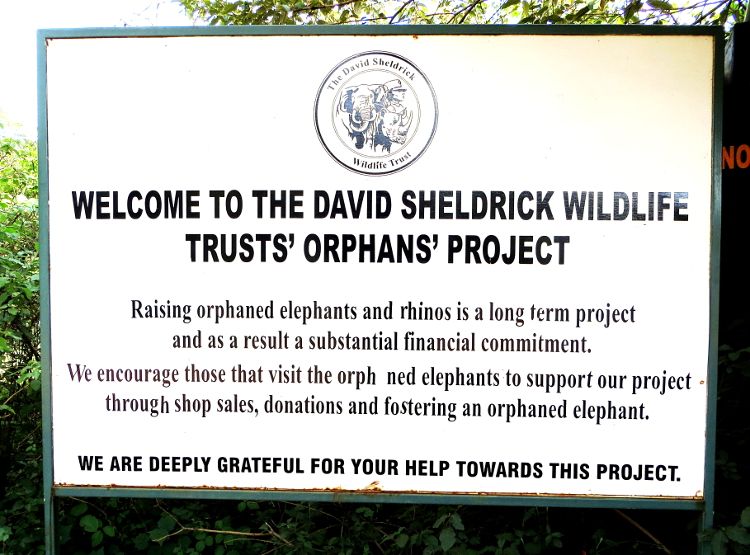 A warthog who lost his tail to a predator has been taken in and is raising a family in the compound.










Wise advice! Baby elephants don't know their own strength. What to them would be a friendly bump could be bone-crushing for a human. And they eat greedily – so anything in their mouth is fair game!









The Sheldrick has taken in two rhinos. This one is blind and would not survive if turned out into the wild, so it will live at the orphanage, probably for many decades.










The babies spend their day with their older herd members in the park area, but return to their pens at night for formula and forage before bed time. Visitors wait to see the babies come in. The babies don't stop – they know there is a caretaker with their formula waiting at their pen. One would not want to get in the way of a hungry elephant, even a "small" one!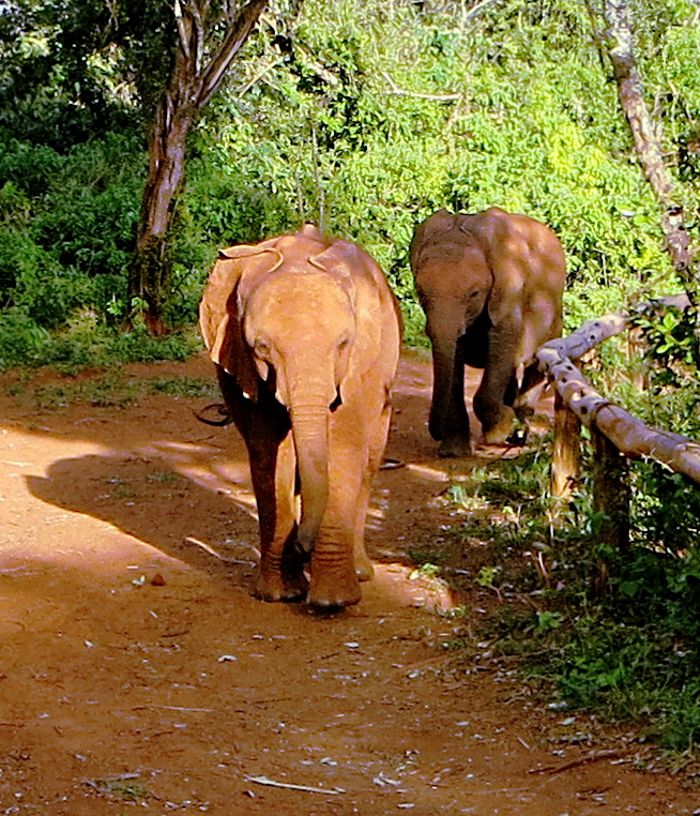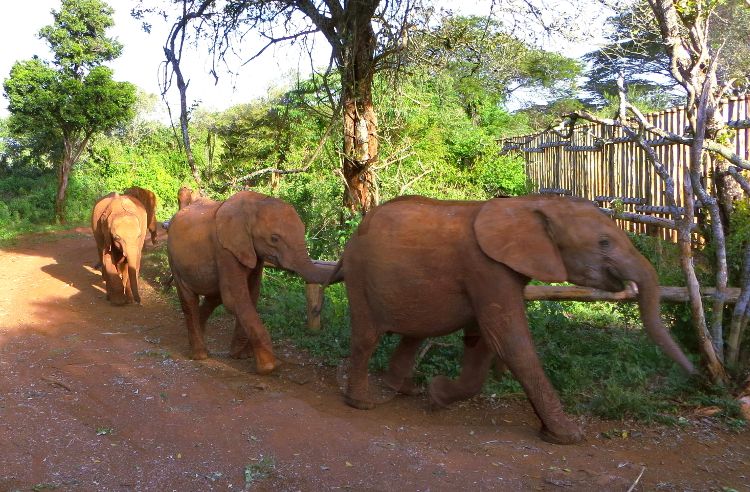 The Idiots had Faraja pointed out to them as he trotted by. There was no way they could catch up with him, but they followed his trail to his pen.









The caretaker wasted no time in satisfying an enthusiastic baby seeking his milk. By the second bottle, Faraja decided to help and grabbed the bottle to extract every last drop.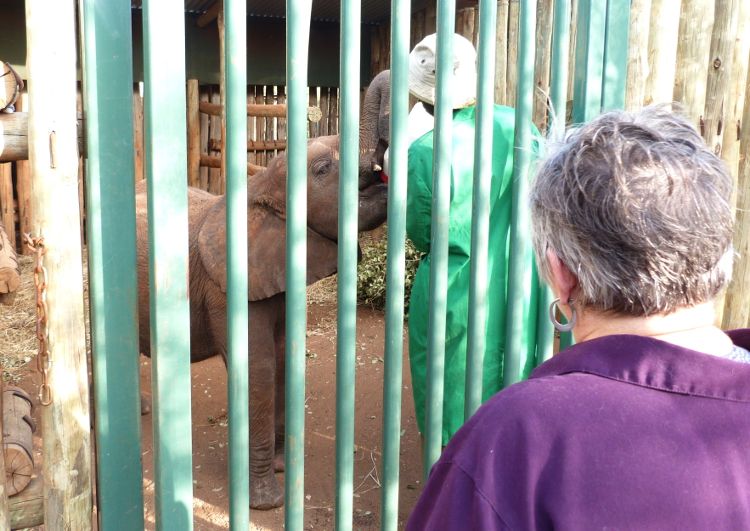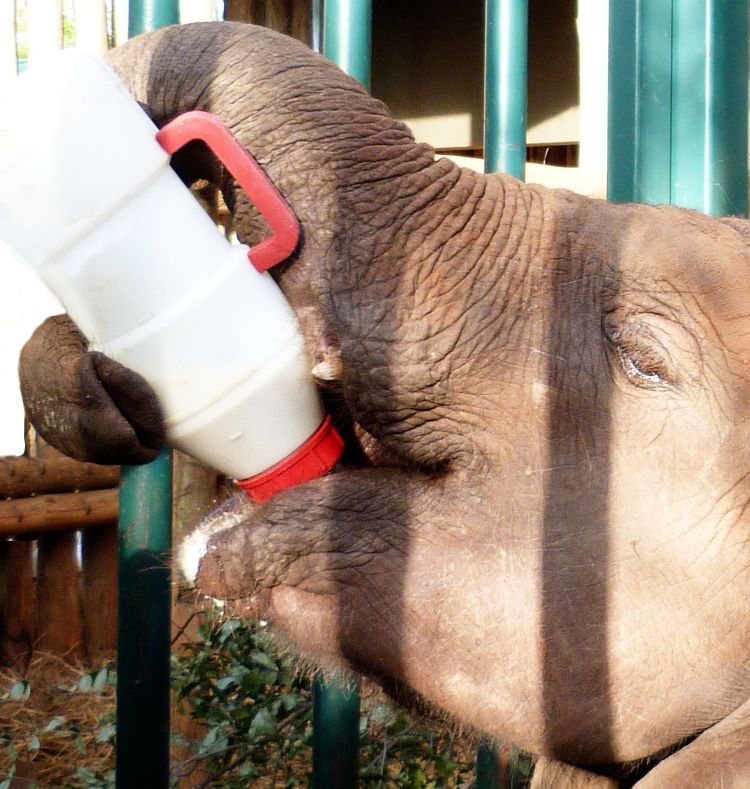 After the formula comes one more snack before bed time – what appears to the Idiots as a large pile of brush with lots of wood and some dried leaves. Elephants are not cud-chewing animals with multiple stomachs. They have only one stomach and it is quite inefficient. They must eat copious amounts of forage every day to get enough nutrients to support their rapid growth and very large bodies.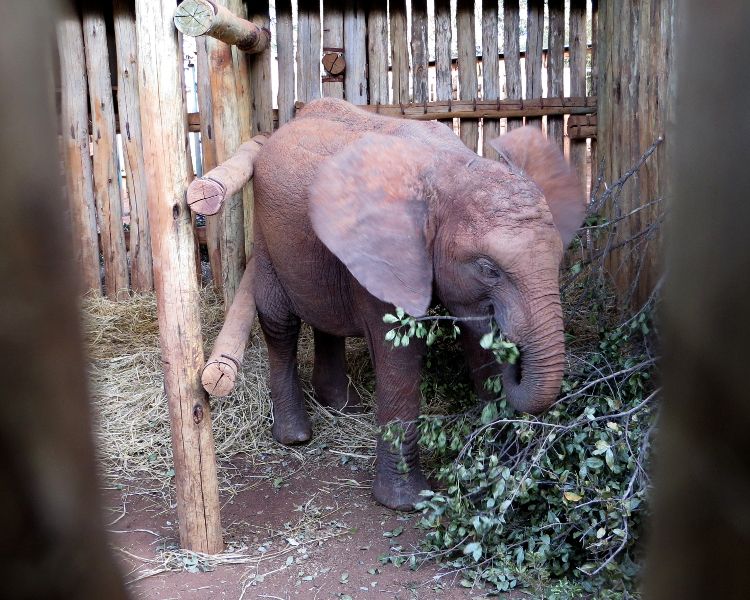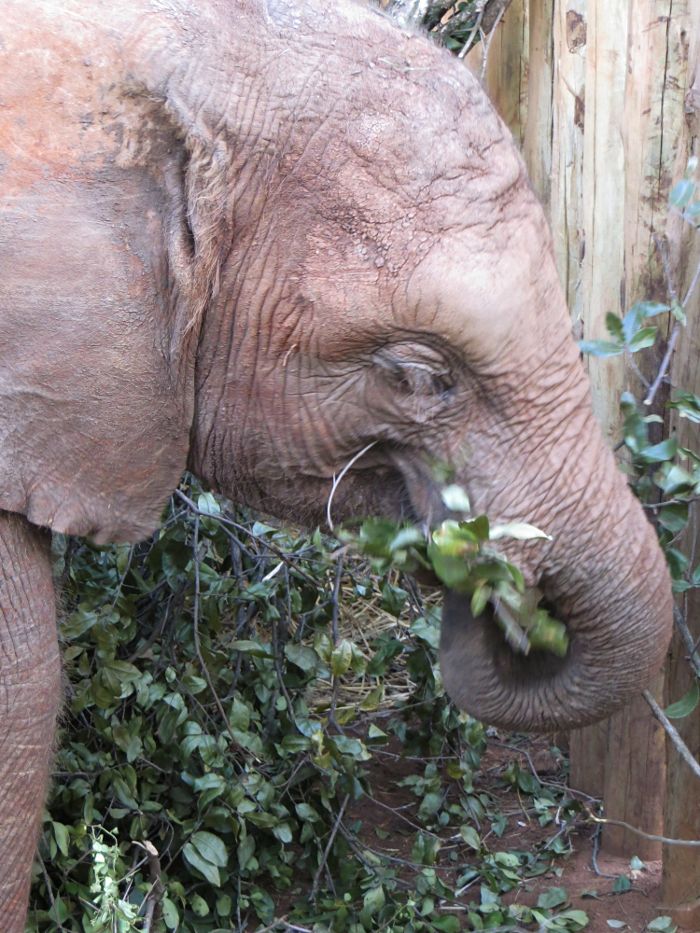 Doting sponsors… a little like aunts and uncles… lots of baby pictures… "Aren't they just so cute at this age! Look at those ears!"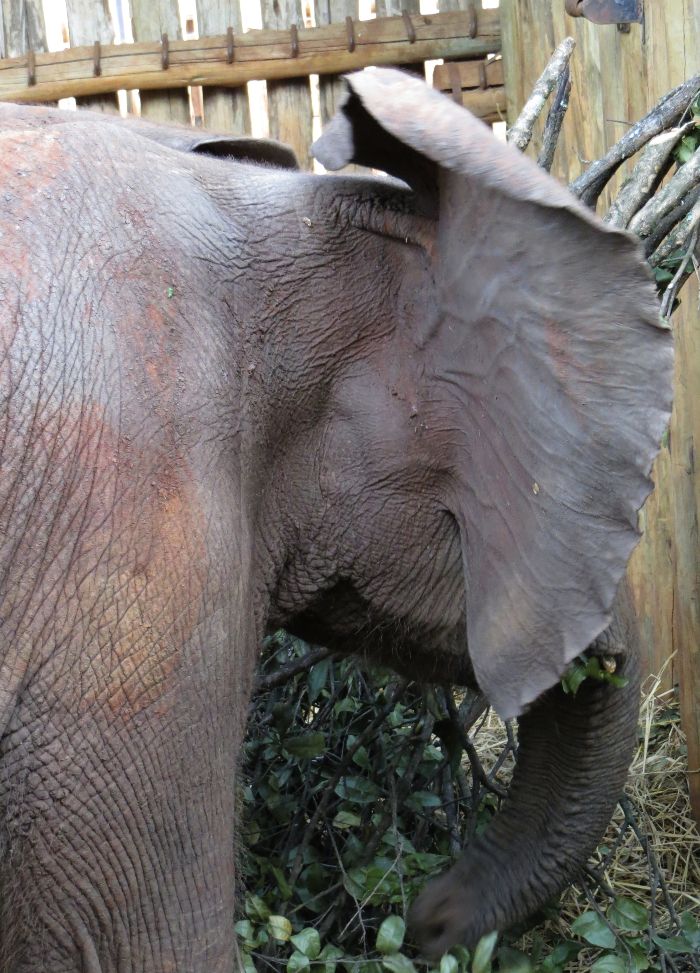 "Oh, look… he's standing with his legs crossed!"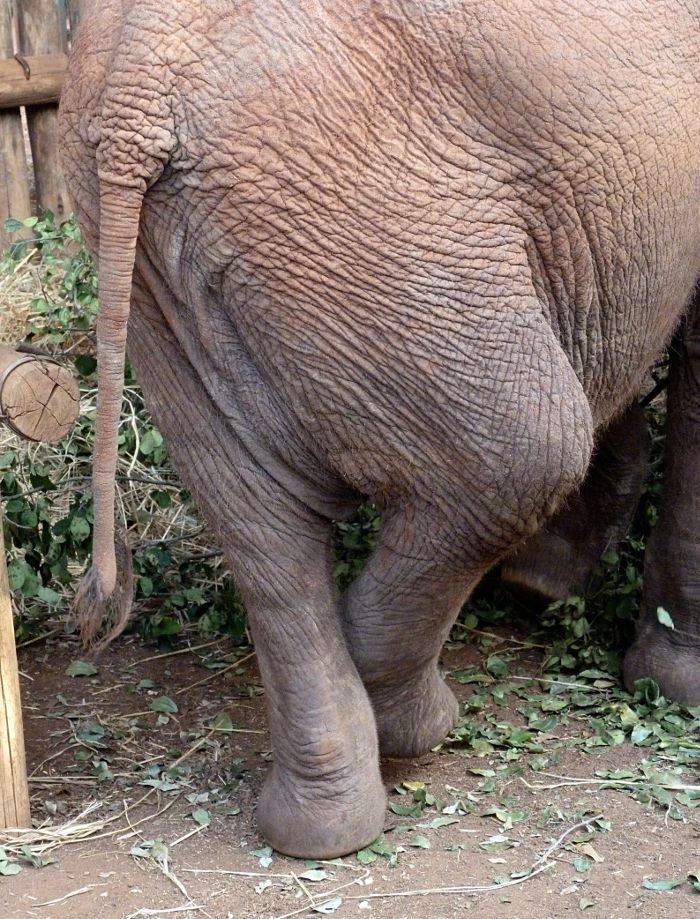 "And such lovely skin!"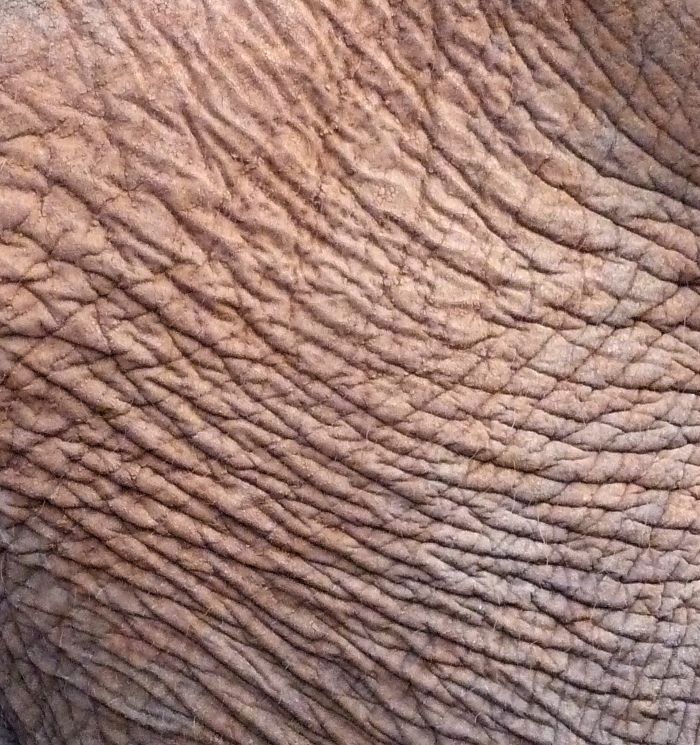 How do you tell that an elephant is an albino, or, in this case, a partial albino? Their coloration all appears the same, especially after spending their day in the red dust of Nairobi National Park. The answer is blonde hairs and a bluish tint to the eyes.









Hope springs eternal… "I know they keep those formula bottles in this bucket… maybe there is just one more!"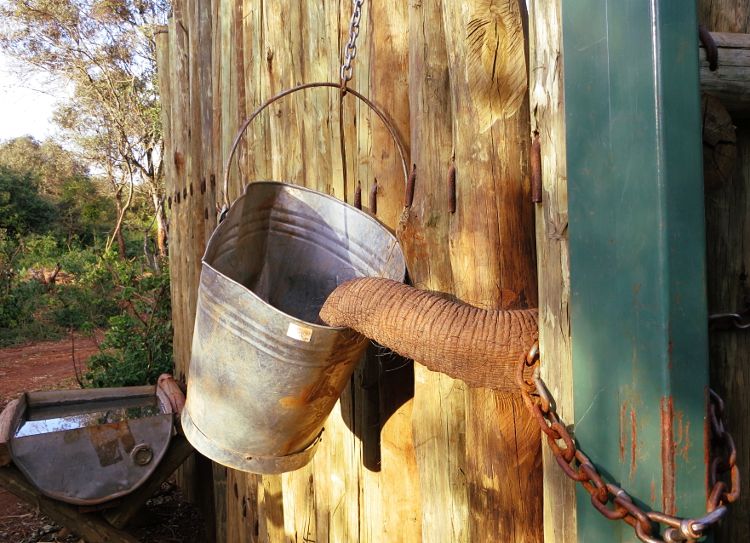 No caption needed… Idiot She loves elephants, especially darling little Faraja!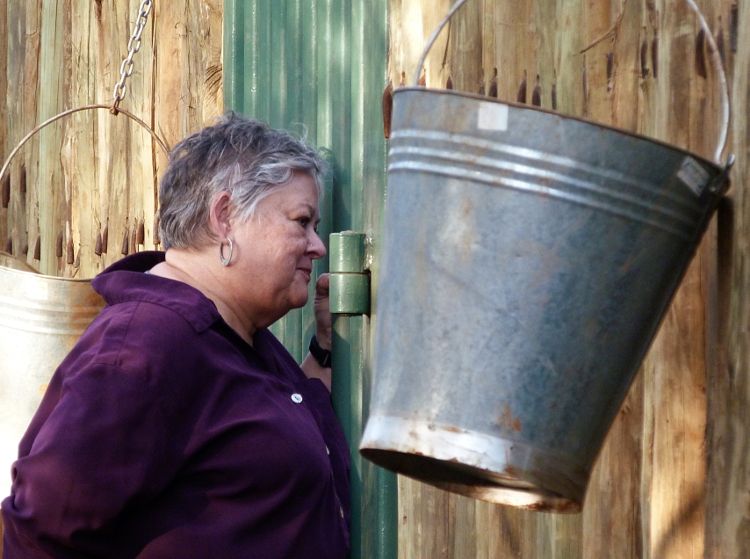 Even a baby elephant carries a lot of weight and momentum – the stockades are solidly built.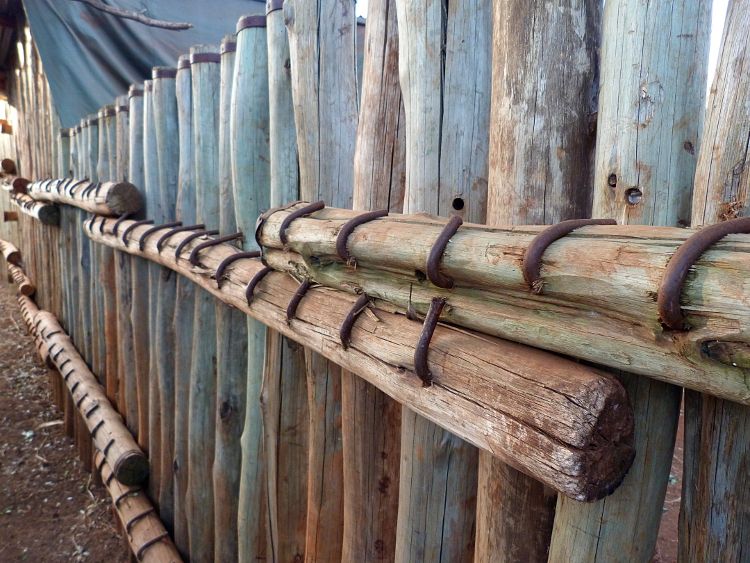 Another baby is put to bed… the blanket startled him, resulting in the "big ears" pose.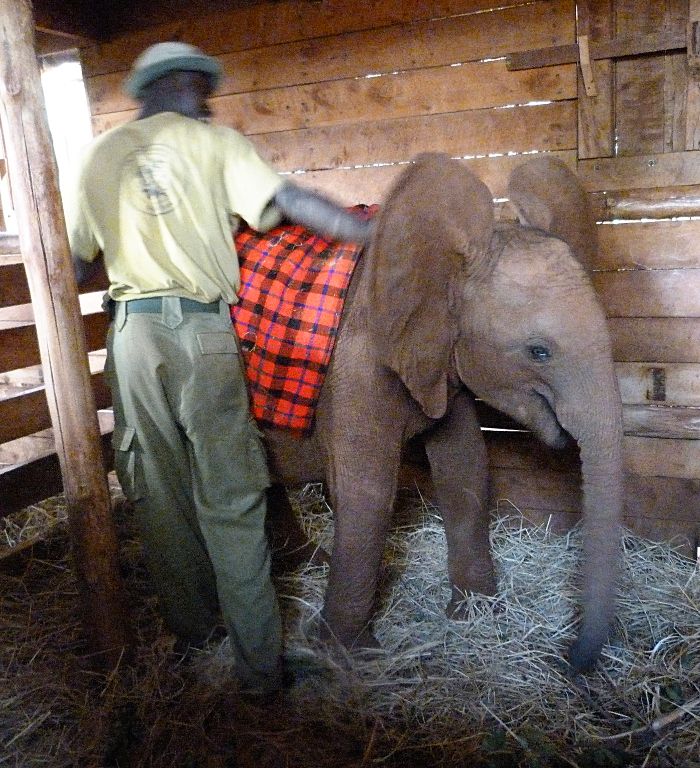 This baby has attitude! That look very much conveys "Don't mess with me!"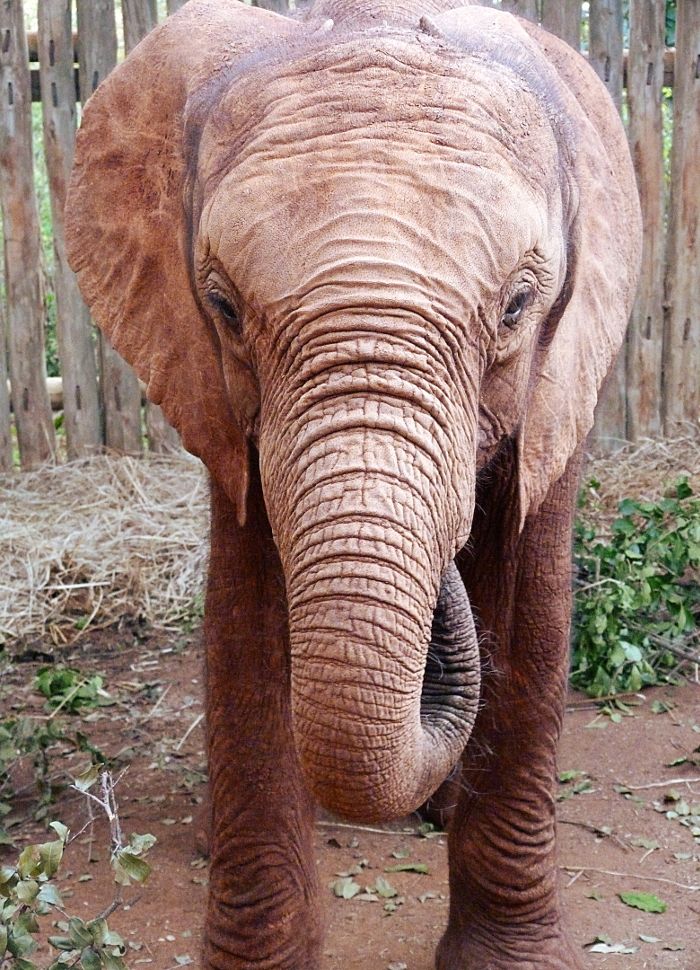 Idiot He just can't pass up a good bird picture…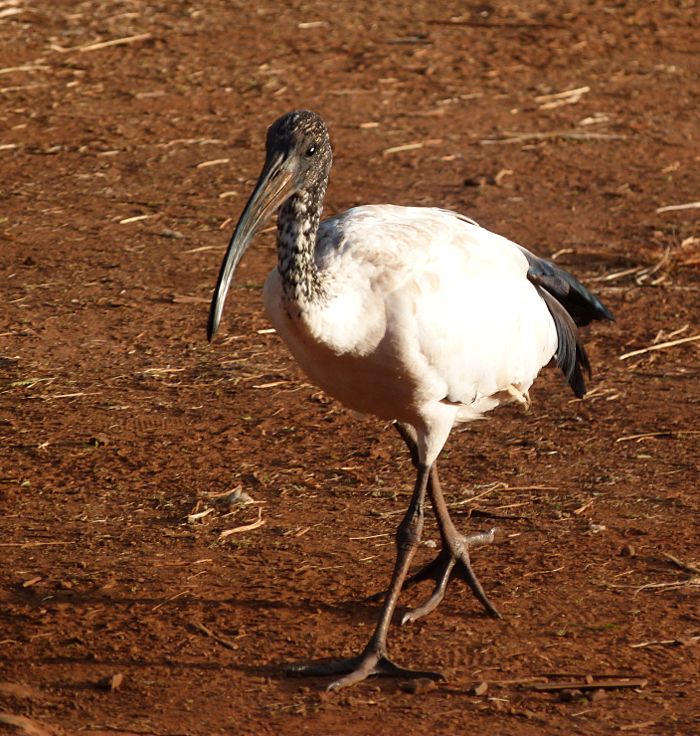 A quiet goodbye as the sun sets on the babies. The TV news that night, like most nights, was full of tragedy and stupidity. The Idiots had the benefit of having witnessed something that is so obviously good and right to provide some balance to the insanity of daily life.