Idiots Bahati Ya Mjinga Episode 8 Mombasa Moments Part 2

"OK… but don't go too deep…"

As the Idiots entered the area of Mombasa known as "Old Town" they attracted a flycatcher. Flycatchers occur in various tourist locations across the planet. They can take different forms, but the basic idea is a man will approach and attempt to engage the traveler in pleasant conversation. They rapidly start to act like a tour guide, offering suggestions and help – even if the traveler clearly states they do not want the "service." Their persistence goes way beyond annoying - they stick to you like flypaper. They take "no" as an invitation to renew the conversation.

Flycatchers can make a profit any number of ways. They can hope for a tip after having provided guide services. They may have something they hope to sell. They can also get a small sum for "steering" travelers to certain shops. Sometimes they get a small payment just to go away. Flycatching is not a prestigious career choice.

This flycatcher was an old man. He started out by walking along side the Idiots and asking where they were from. He soon moved a pace ahead and started describing things that even Idiots could see without help and giving them unwanted directions and advice. He attempted to steer them into a souvenir shop that he said was "my shop" though it was clear that if he had a shop, he wouldn't be out on the street picking up tourists.

Finally Idiot He had enough. He stopped in his tracks, forcing the gentleman to stop and come back a couple of paces. Idiot He forcefully repeated what he had said twice before – that the Idiots just wanted to wander around – and pointedly said that they'd like to do this wandering alone.

The flycatcher finally gave up, but did toss out a somewhat ominous comment as he walked away. "OK – but don't go too deep."

Idiot He rolled this around in his mind. The obvious interpretation was that a stranger in the Old Town may not be safe without accompaniment in the more remote parts. But as the Idiots went deeper into the warren of streets and alleys and dead-ends that make up the street map of the Old Town they also found themselves going deep in a different way - backward in time and deeper into a culture that was increasingly foreign to them - and they got the distinct impression that tourists with cameras were not welcome.

The Old Town of Mombasa has streets that narrow, branch irregularly, curve back on themselves, and occasionally just devolve into foot paths or come to dead ends. There was clearly no overall plan for this part of the city. There was probably a network of goat paths among houses going back 500 years and more. As the buildings filled in the area became and overpopulated jumble, full of life and energy… and often lacking basics like electricity and plumbing.

The Idiots really enjoyed their walk. But it did become clear that, in spite of the warning, they may have gone a bit too deep.

A street leading into Old Town.








The walk began very positively. Almost adjacent to Fort Jesus they found an old building – apparently abandoned – that could provide days of challenge for any photographer. The architectural design and details combined with the process of decay resulted in an amazing interplay of color, shape and texture. It was obvious that the building changes character as the angle of sunlight varies. The Idiots both had cameras and they spent some time working from one interesting vantage to the next.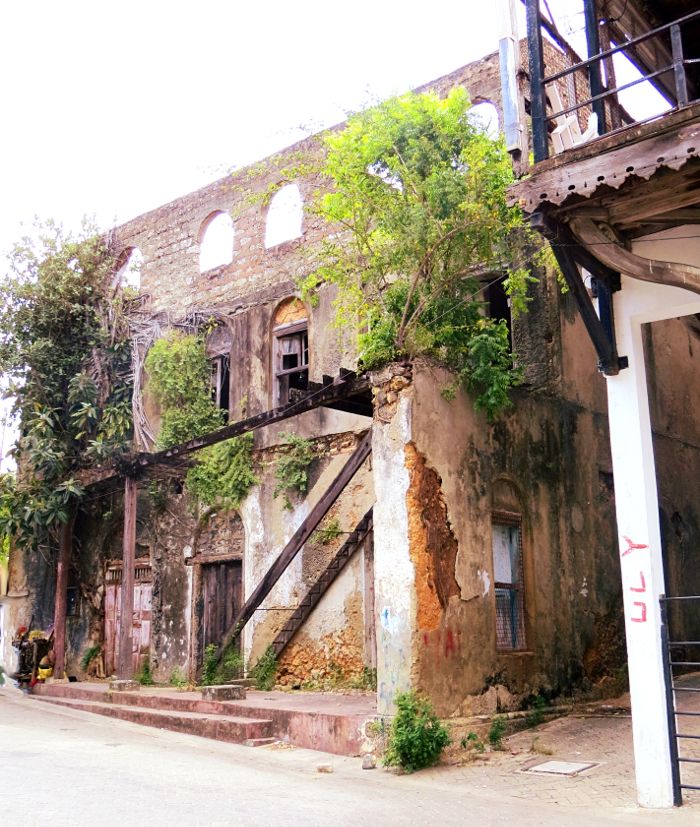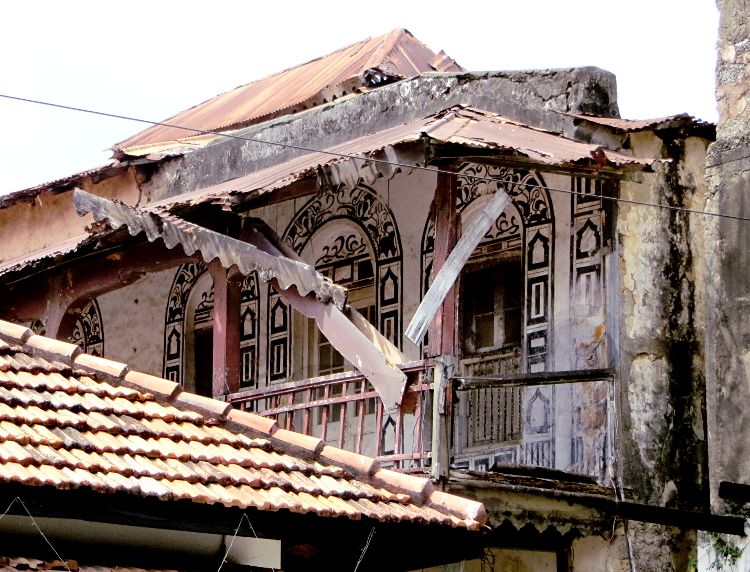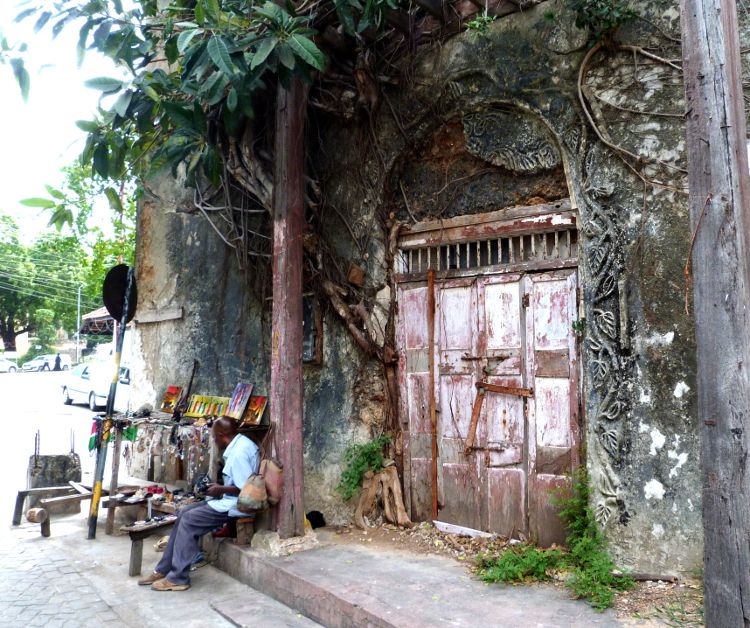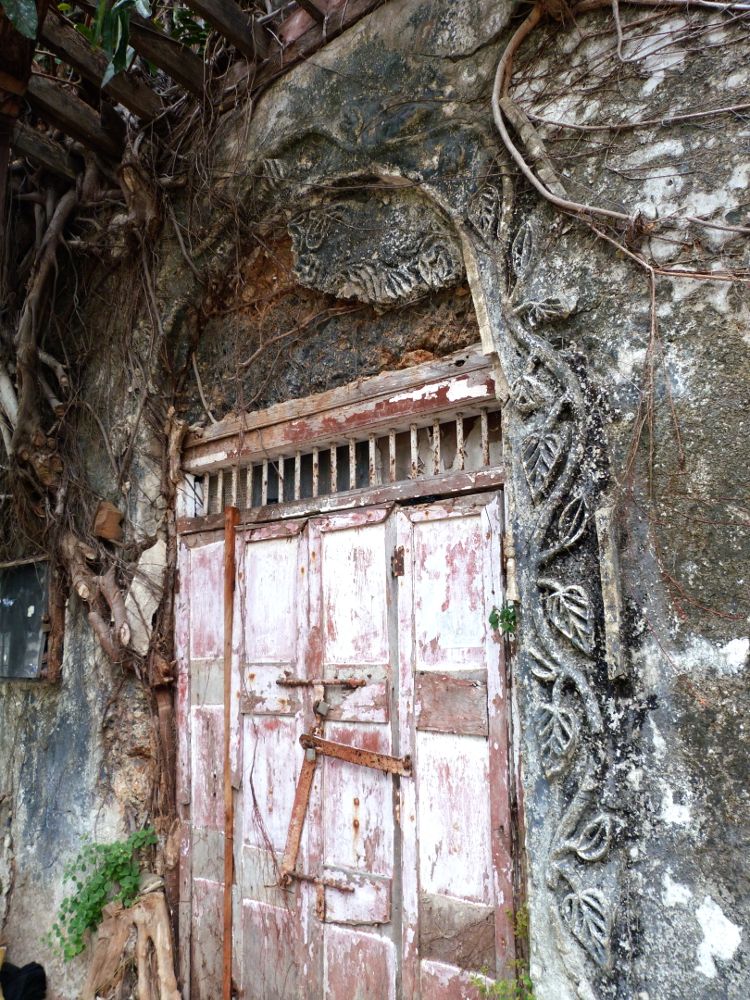 Idiot She spotted some woven fabrics hanging outside a door and headed into Mama Sita's gift shop. One gentleman walked around with her, assisting with information and prices. Idiot He spent a couple of minutes looking at an assortment of wood carvings, but it didn't take long for him to seek a rest on a hot, sunny afternoon.

A man offered him a seat on a carved wooden chair. In a couple of minutes, Mama Sita herself came in, sat down in a nearby chair, and engaged "Baba" (Idiot He is Baba – Father – in Swahili… unless he is Babu – Grandfather. He prefers Baba…) in conversation.

Mama Sita asked where the Idiots were from, then asked where they had come from before Mombasa and how they liked it there. Idiot He was aware of a difference in how the residents of Mombasa and Nairobi see each other. He talked about how much he enjoyed Mombasa… the way people would take time to sit and talk… while in Nairobi everything is about walking fast and talking fast and making money.

Mama Sita immediately endorsed his comments, saying Nairobians think Mombasans are lazy because the move so slow and approach life with a real Hakuna Metata attitude and how Mombasans think Nairobians are crazy as they are constantly rushing around trying to make money. Though her English was somewhat simple, they established a common endorsement of taking it easy - pole pole – over thoughtless activity and greed.

Idiot She eventually bought some carved wooden salad tongs… to the tune of $3.50… and they were on their way. Except Mama Sita insisted on giving Idiot She an inexpensive beaded necklace that features an elephant and Idiot He had to have one with an Africa bead to remind him of his African heart. They put them on and left with big smiles and handshakes. (Idiot She continues to wear hers even weeks after the visit to Mombasa.)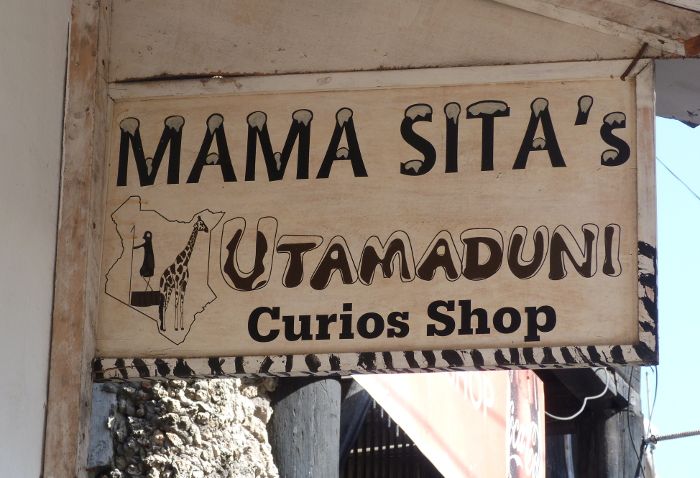 A tiny portion of the riot of woodcarvings at Mama Sita's…








An unusual tourist curio that the Idiots found a few places in Kenya… airplanes, buses, trucks, etc. made from bottle caps…









After Mama Sita's, the streets began to narrow and twist. The sense of enclosure was heightened by the balconies that thrust out from many of the buildings. As in old cities in Europe, when buildings became crowded together, people extended their floor plans by "stealing" a little extra space - building balconies that extended out over the street. In a hot coastal city like Mombasa this made even more sense. In a time before air conditioning, the balconies allow seeking sea breezes from three sides. And as a Muslim city, the elaborately screened balconies could allow women to get some air without exposing themselves improperly to public view.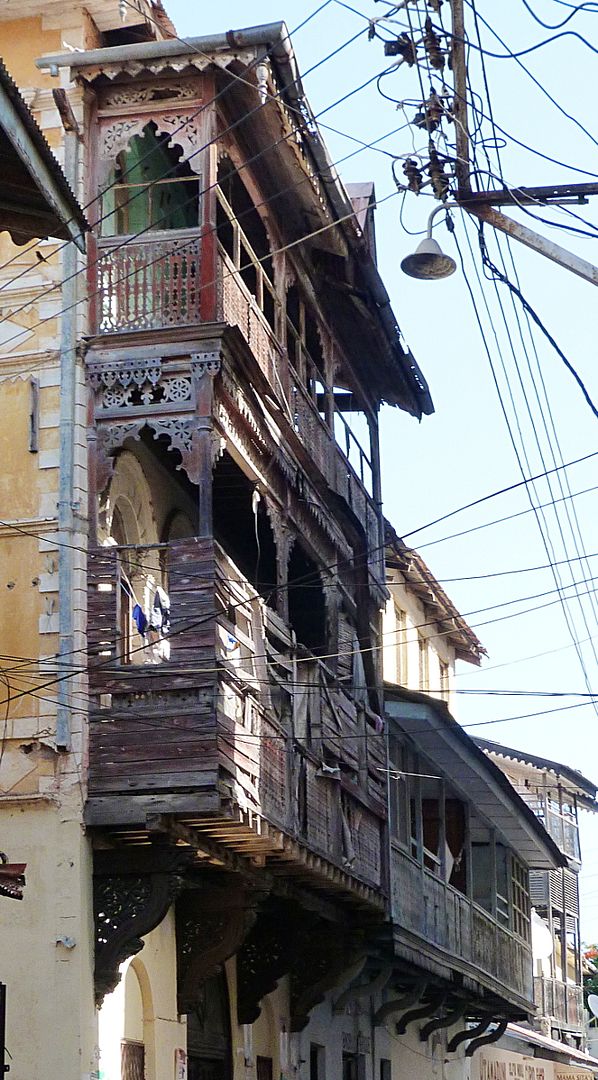 The buildings became more run down… and the intensity of the street life increased… the deeper the Idiots ventured. Women all seemed to be moving purposefully, while groups of men stood or sat and conversed – probably solving all the world's problems through hours of idle conversation while seeking spots in the shade as men are wont to do the world over.

Except the gazes became more pointed the farther the Idiots ventured. Casual glances became fixed stares. When Idiot He saw an intriguing "still life" above them and pulled out his camera, it became clear that several young men were considering approaching him regarding taking pictures of the area and especially of the residents. He made a clear show of pointing the camera skyward and only taking a picture of the upper architecture and no people. Even then, the animosity was obvious and the Idiots walked purposefully away from a potential confrontation.

Still… how could he not grab a shot of the inexplicable stuffed horse setting on a second floor ledge? It looked like it had been there a long time… and one would truly lack imagination if it didn't inspire hints of tales of how it came to be and stay on that ledge.


[U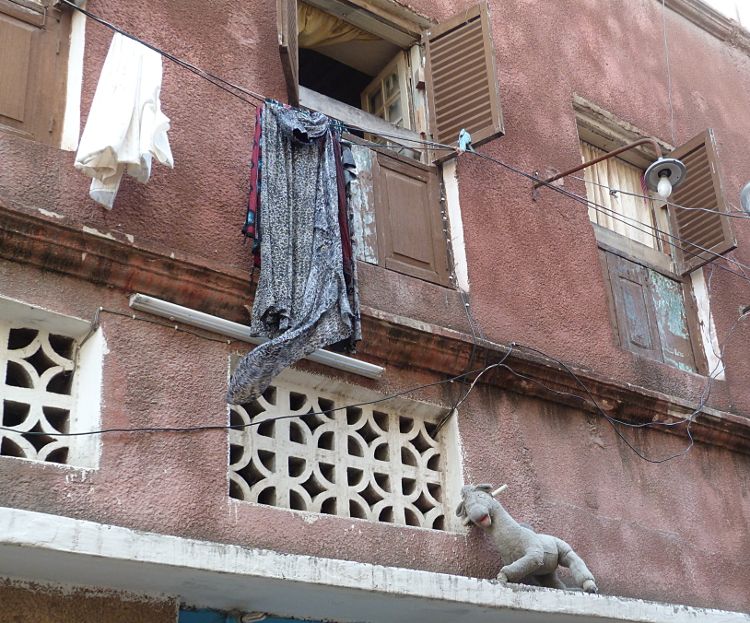 Veteran photographers will sympathize with the Idiots. They were wandering through incredibly lively activity and exotic details… and they knew from the looks they received that their cameras were not welcome and might even lead to direct confrontations… so Idiot She's small camera went into her bag and Idiot He left his larger camera hanging around his neck rather than raising it to take photos.

An ethical judgment call was required. Idiot He has always respected the strictures against photographing people who reject having images made for religious reasons. Some of the American Indian tribes, like the Hopi, have traditionalists who consider any photography on their reservation to be an offense to the gods. But He can be a bit stubborn about folks who object to photography because… just because… or those who only object if they are not able to make some profit from the photographer even if he is only picturing things that are publc and open to any observer.

So Idiot He turned off the display screen and flash on his camera, but did walk with his hand on the camera… and his finger occasionally hit the shutter button… and a few images made their way into the memory chip.

Though they were in Kenya's second largest and oldest city, the surroundings rapidly became more like a village than an urban environment. Businesses like woodworking and tailoring pushed out into the streets… stalls and marketing interwove with very basic housing and the occasional mosque… smells indicated that water and sewers didn't extend into many of the older buildings…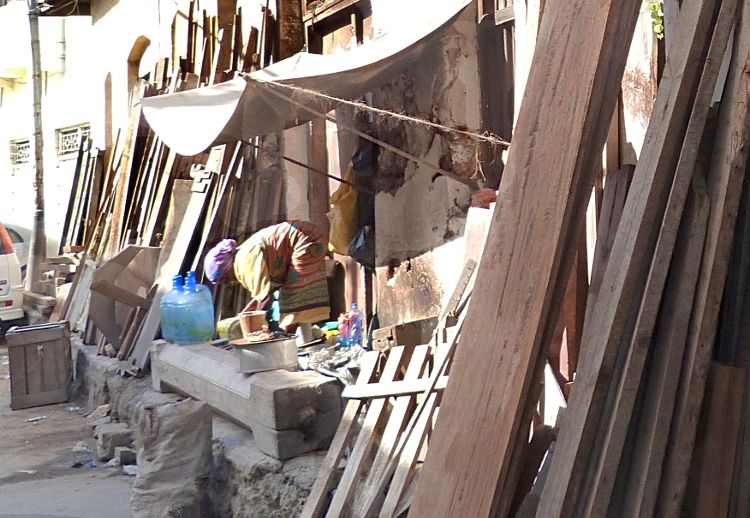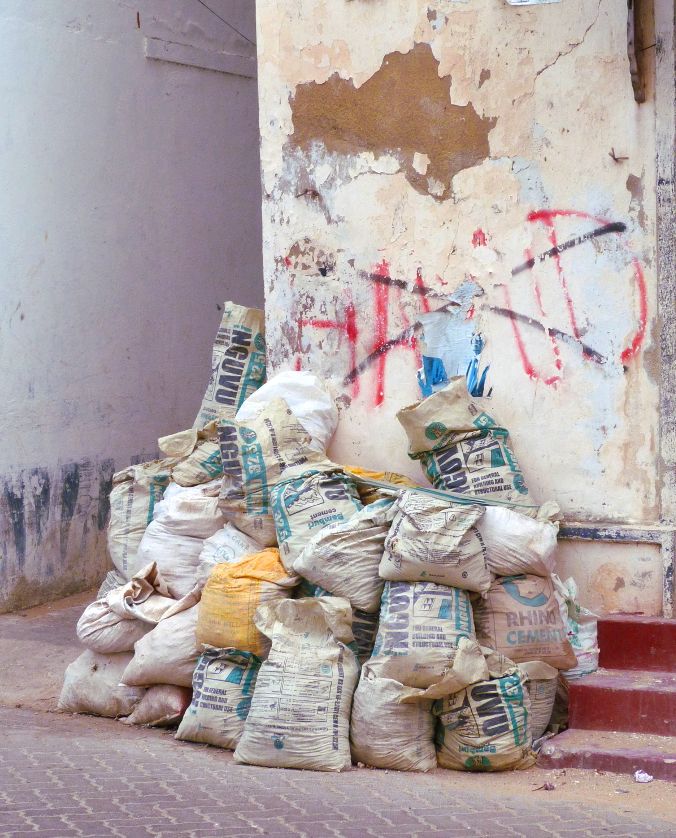 Anyone familiar with Lee Marvin's Academy Award winning performance in Cat Ballou will immediately recognize why this detail taken from the goat picture deserves special note…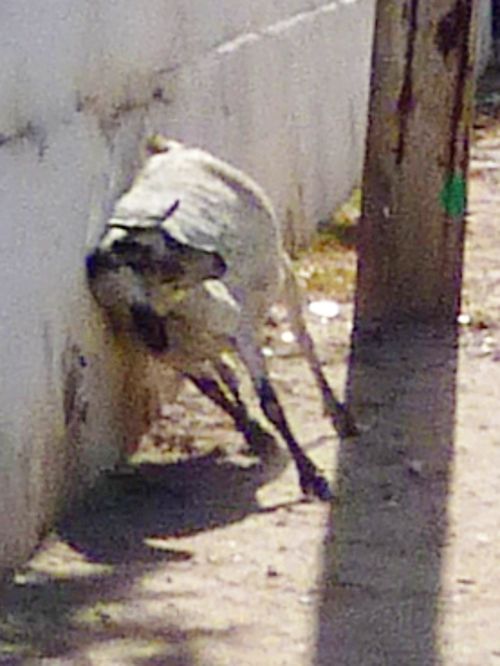 It is easy to forget what American cities looked like 50 or 60 years ago, with electricity and phones messages – Idiot He can even remember telegraph communication - distributed through vast networks of poles and exposed wires. Some parts of Old Town are very rustic, while those that have electrical service are very obvious as the web of wires runs in all directions…








The Idiots smiled at the sight of a group of schoolboys looking solemn as they left their madrasa… watching their faces as a little of the joy felt by pupils everywhere started to show as they escaped the sharp stern gazes of their teachers… but then those sharp stern gazes were focused on the Idiots and the Norman Rockwell moment evaporated.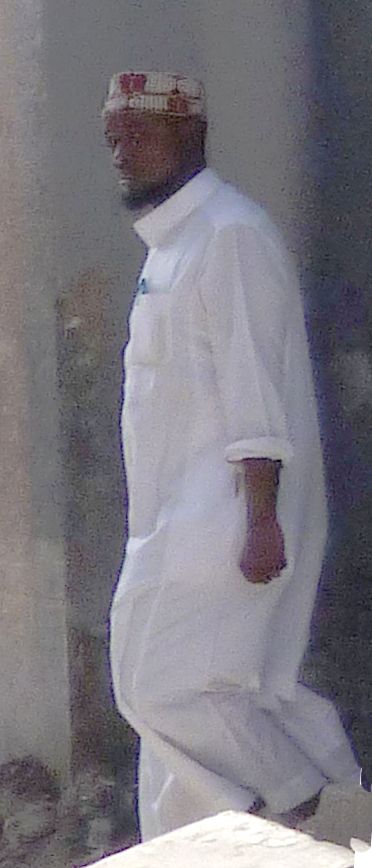 The welcoming they received from the laid-back Mama Sita was three quarters of a mile and several hundred years away. The Idiots had gone too deep. They were no longer just strangers… they were unwelcome infidels.

The Idiots were also hot, tired, and sweaty. Idiot He had entered a basic map of Old Town into his memory banks and confidently assured Idiot She that he knew precisely where the were – though he privately knew that some of those alleys and walkways just didn't match the spaghetti-like pattern he was attempting to follow. Nonetheless, they stumbled into a nexus he could identify where a number of ways met and there was actual paving and vehicles.

Idiot He knew of a coffee shop where they could refresh themselves… no liquor in this Muslim neighborhood, but perhaps some juice and a sidewalk table would rejuvenate them.

Except the place was closed… and the places that were open didn't meet the Idiot criteria for comfortable hanging out… and the people and traffic and handcarts and the guy whose pants fell down and nobody even seemed to notice just kind of all blended together to say "Go back to your hotel and have a beer."

As a tuk-tuk narrowly avoided running over Idiot He's foot, the driver applied what little brakes he had and asked if they wanted a ride. They asked if he knew the Lotus Hotel on Cathedral Street. He assured them he did. They agreed on the fare – about $1. They hopped in and a "Mr. Toad's Wild Ride" passage through the streets of Old Town ensued.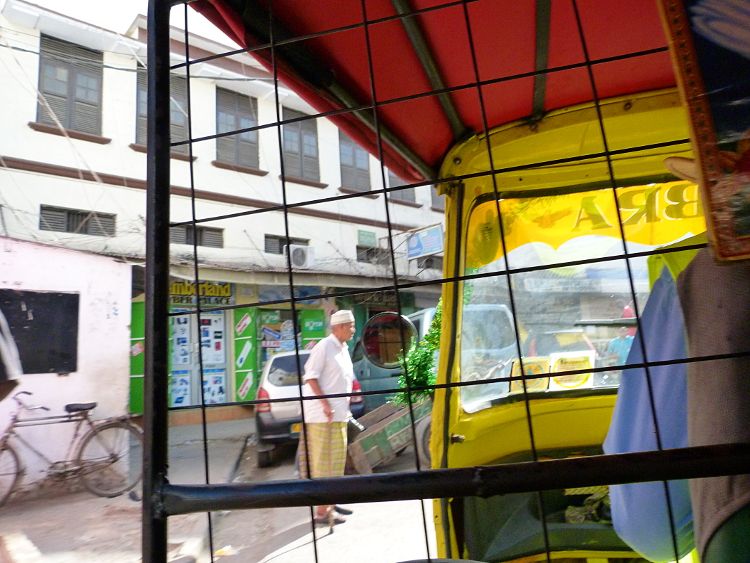 Idiot He loved the contrasts in this shot out the side of the careering tuk-tuk.









The driver seemed joyfully oblivious to all the near-misses with cars, trucks, fixed and movable objects, pedestrians, and livestock. The message board reassured them as he took them rapidly from point A to point B.







Unfortunately, Point B was not the Lotus Hotel. Of course… and it does seem to be an "of course" for taxi and tuk-tuk drivers in Kenya and Tanzania… the driver had no clue where the Lotus Hotel was. He knew it wasn't in Old Town, so he drove rapidly out of Old Town… but when he came to Nekrumah Avenue he turned the wrong direction. Though they'd only been in town a few hours and had only passed this way once, Idiot He knew it was an error.

Idiot He made noises and a broken exchange established that they were going the wrong way and that neither of them was clear on the precise correct way… this in spite of a hotel card with a map. At this point the Idiots learned a little more about how things work. If a driver says he knows where something is, what he means is he is pretty sure he can get to a series of spots where he can ask other people how to find the destination and will eventually be able to deliver his passenger to the desired location.

So he asked directions. The second guy was able to give quite specific instructions – which the driver couldn't seem to understand even though Idiot He, speaking no Swahili, picked up enough to know where to go. Then when lightning struck and the driver did understand, he seemed to dispute the instructions. Finally the guy turned the drivers head and pointed down Nekrumah to a huge tree about 4 blocks away and said "Lotus!"

The driver puzzled a bit, then his face brightened. "Lotus!" he exclaimed. With great enthusiasm he cried "Lotus" again and started up the tuk-tuk. It seemed that Idiot He had been repeatedly saying "Lotus" and "Lotus Hotel" and "Cathedral" to no effect while the guy on the street was able to direct the driver by saying "Lotus" and "Lotus Hotel" and "Cathedral." The Idiots could detect no difference in intonation or pronunciation – but apparently the driver could.

Off they went, flying down Nkrumah through heavy traffic, weaving around all obstacles. They came to Cathedral and the Idiots assumed the "No tuk-tuks Beyond This Point" sign would slow the driver down – but he narrowly avoided hitting it as he shot past and delivered them to their door a block away. Idiot He gave him a good tip for his contribution to the Idiot's tales.

The hotel caters to businessmen and has a bar. The Idiots ate samosas and drank beer and failed to draw any conclusions other than that they'd had an interesting day in Mombasa.